This content is not published
Design for Recycling - Mission architectures to manufacture, refurbish and recycle satellites on-orbit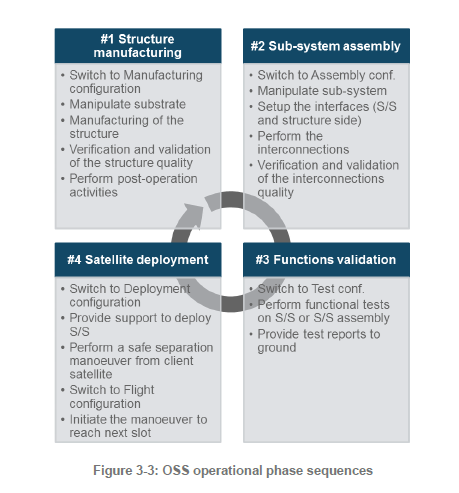 Description:
The main objective of the OMAR Mission Architecture study is to identify and trade-off different mission architectures, to provide different services on-orbit. For each of the relevant scenarios, this objective shall be achieved by defining the associated system functional analysis and by trading-off different architectures and concepts of operations. Furthermore, the impact of aspects such as: operational orbit, type of serviced satellites, services provided, different levels of autonomy, and any other relevant factors is to be assessed. In order to achieve the main objective the following three main tasks are defined:
The objective of Task 1 is to map and classify all possible mission scenarios and to perform a mission-level functional analysis for each of the identified services.
The objective of Task 2 is to establish the domains of application and driving criteria for different mission profiles, concept of operations and functional breakdown, by assessing each of the identified mission scenarios.
The objective of Task 3 is to define a comprehensive mission architecture for selected mission profiles, i.e. the architecture, mission profile and concept of operations shall be detailed.
Furthermore an initial assessment of commercial considerations shall be carried out.
Technology Domain:
8 - System Design & Verification
Competence Domain:
2-Structures, Mechanisms, Materials, Thermal
Keywords:
Mission architecture
manufacture
refurbish
recycle
on-orbit manufacturing