This content is not published
L-DAP Lunar Dust Analysis Package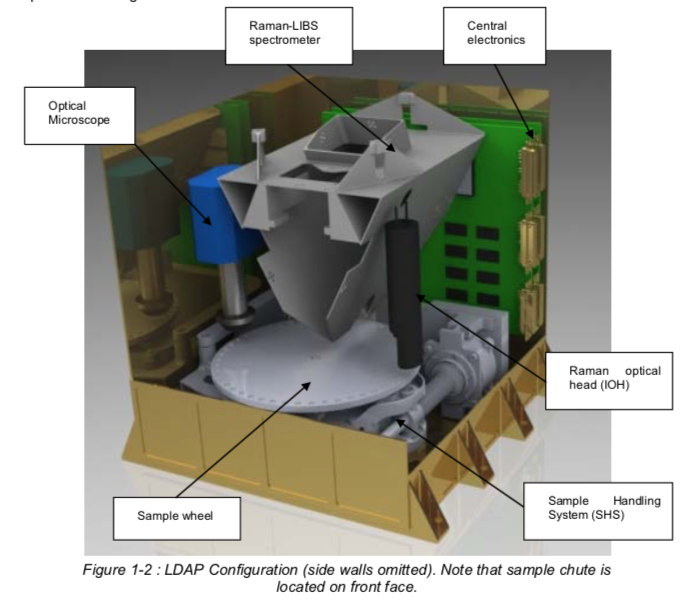 Description:
The Lunar Dust Analysis Package or L-DAP comprises a number of instruments intended to measure the microscopic properties of lunar dust including:
-The size distribution of the lunar dust
-The structure of the dust grains
-The presence and abundance of key components (eg: nanophase Fe)
-The presence and concentration of specific minerals
-The percentage mass of key elements
-The abundance and distribution of H2O, OH and hydrated minerals
-Electrophysical properties and magnetic field and permittivity.
The package comprises:
-A combined Raman and Laser Induced Breakdown (LIB) spectroscope, consisting of a Raman optical head and spectrometer located within the package and an additional combined Raman-LIBS external optical head mounted to the Lunar Lander robotic arm which shares the spectrometer with the package-internal Raman system
-Anopticalmicroscope(OM)
-AnAtomicForceMicroscope(AFM)
-A sample delivery mechanism which delivers the dust from input chutes on the outside of the package to the microscopes and spectroscopes.
-Asupportingstructureandthermalhardware/equipment 6. ElectronicsandelectricalinterfacestotheLander.
Keywords:
Moon
ISRU
Volatiles
Dust
Lunar Lander
Microscope