This content is not published
OPTIMAL - OPtIcal methods for MArine Litter detection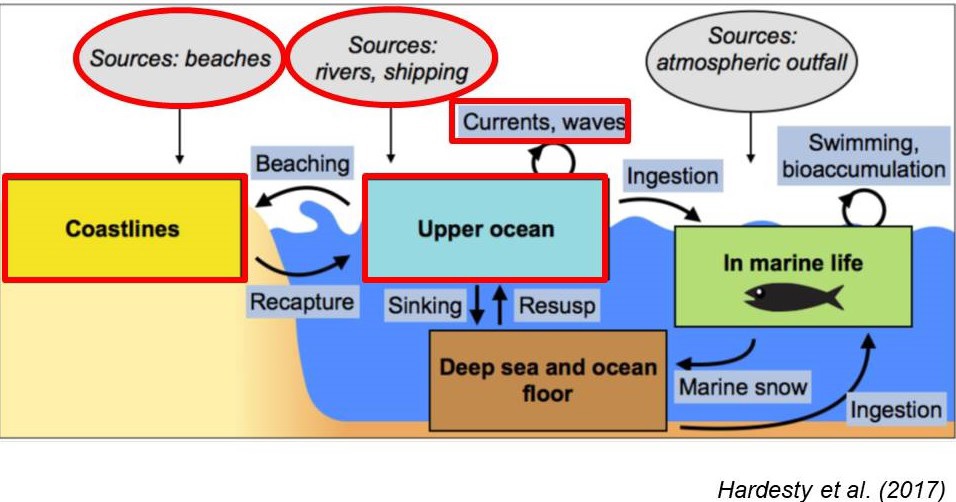 Contractor:
Plymouth Marine Laboratory
Description:
The main aim of OPTIMAL was to perform a feasibility study on a potential mission or system to detect marine plastic litter through satellite remote sensing. To do so, the project activities involved the following aspects:
User requirement consultation and engagement: Through a literature review, an online questionnaire and a user consultation workshop co-organised with ESA, initial requirements for a marine litter mission were collected. An initial iteration of a compliance matrix was produced.
Experimental phase: The user requirements were refined through experiments in the laboratory, a field campaign and a satellite-based study. It was found that only areas in the ocean with high concentrations of microplastics and low concentrations of chlorophyll could be amenable to observation using radiometry in visible light. In addtion, Copernicus Sentinel-2 images provided preliminary evidence of aggregation of large material over fronts. Importantly, it has been shown through OPTIMAL that there is potential for plastic detection by focusing detection at a wavelength of 1732 nanometres.
Conceptual design and development plan: Having demonstrated the potential for detection, the conceptual design and developement plan is mostly proposed in terms of a scientific roadmap, to progress the fundamental science through more realistic situations to refine sensor reguirements. At the same time, it has been proposed that current Earth observation assets are used to create 'risk maps' from oceanographic discontinuities that are likely to accumulate marine debris, such as fronts or windrows.
Competence Domain:
5-Radiofrequency & Optical Systems and Products
Keywords:
Remote Sensing
Earth observation
sentinel 2
marine litter detection
plastic
Marine Litter